This article provides an overview on Print ISBN/Accession Bar Code Labels.
Navigation:
District View
Automation
Print ISBN/Accession Bar Code Labels
Overview
Instructional Materials Management prints the ISBN, title, district name, and the accession number on the same bar code label. For example: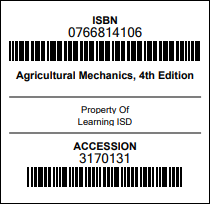 The label sheet size matches Avery 6578 (polyester label) or 6572 (paper label) or the generic equivalent. The label sheet should contain 15 labels: five labels down and three labels across per sheet. Printing runs down column one before proceeding to columns two and three.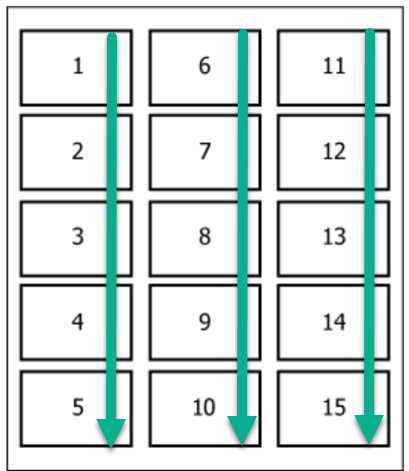 Print Barcodes Page
| Term | Definition |
| --- | --- |
| ISBN (International Standard Book Number) | Generally, a 10- or 13-digit number assigned by the publisher of the instructional material |
| Title | Displays the assigned name of the instructional material |
| SLC (State List Code) | State-assigned numbers to groups of instructional materials |
| Publisher | Name of the company that publishes the respective instructional material |
| Books Owned | Displays the total number of copies in the campus inventory for the respective ISBN |
| Labels to Print | Field to enter the desired number of labels to print (defaults to the "Books Owned" number) |
| Highest Accession | Displays the last accession number printed within the district (not just your campus) |
| Beginning Accession | Displays the accession number that the first label you print will use |
| Print Bar Codes | Launches the PDF file containing the ISBN/accession barcodes (respective to the selected labels to print). This options always starts printing at label position 1, as shown in the image above. |
| Select Starting Label | Allows for printing on partial label sheets. This selection opens the "Starting Label" page and allows you to assign the starting position of the label to print from the drop-down box. The numbers listed on the sample sheet of labels is the direction the printer will print your labels (down then across, as shown in the image shown above). |