Asset Management allows items to be moved from the warehouse to a site via transfers.
Navigation:
Warehouse View
Transfers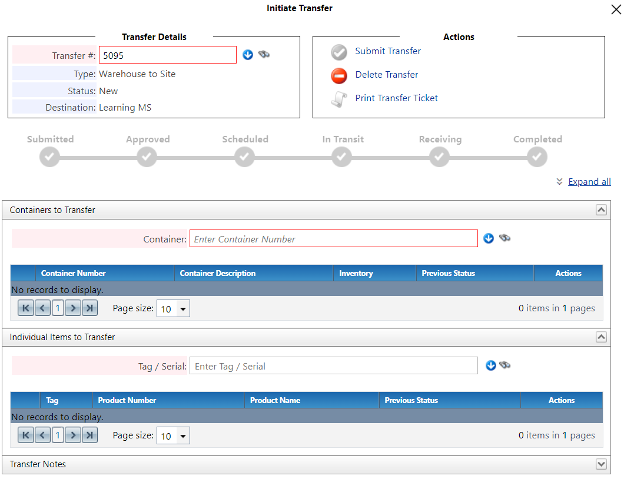 Transfer Items to a Site: Create Transfer
Empty containers are not eligible to be added to a transfer. However, once a container is added to a transfer, the assigned driver can make edits to the contents of the container.
Click on Initiate Transfer, located in the "Transfer Tools" Quick Links menu. The "Initiate Transfer" window opens.
Under "Create a New Transfer," select the respective destination from the Destination drop-down menu.
Click on Create New Transfer next to the "Destination" field.
Add respective containers to the transfer using the "Containers to Transfer" section.

Click on Search next to the "Container" field to select the respective container(s).

Add respective tags to the transfer using the Individual Items to Transfer section.
Enter/scan the tag number into the Tag field.

If you manually enter the tag, click on Transfer to add the item to the transfer.

Click on Transfer Notes to expand this section. Enter any notes regarding the transfer in the text box (optional).
Click on Save. A "Transfer Notes Saved" message displays.
When done adding items to the transfer, click on Submit Transfer.

If approvals are required, the transfer's status changes to "Pending Approval," allowing the destination site administrator to review the transfer. Sites can deny an entire transfer and/or deny a single line item within a transfer.

Click on Close to close the "Initiate Transfer" window.