Problem Types guide the users to choose the category for the ticket issue.
To create or manage problem types, navigate to the following:
Admin
Field Management
Problem Types
Creating a Problem Type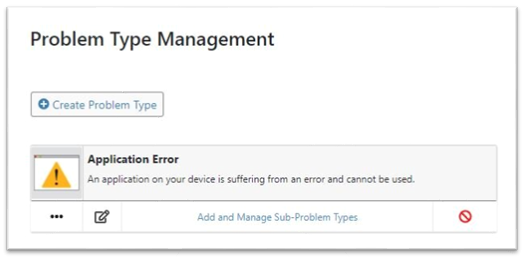 Use the following steps to create a new problem type:
Begin the creation process by clicking on Create Problem Type.
In the Name field, provide a unique name for the problem type.
In the Description field, enter an optional description of the problem type.
Click the checkbox to hide the problem type from the User Portal.
Click the checkbox to require users and technicians to use the sub-problem type.
Use the dropdown to restrict the problem type to a specific service group.
Upload an image for the problem type by clicking the Browse icon and navigating to the image.
Click the Create button to save the new problem type.
Editing Problem Types

Existing problem types can be editing using the following options:
| Icon | Usage |
| --- | --- |
| | View a summary of the problem type details |
| | Edit the problem type details |
| | Deactivate the problem type |
Sub-Problem Type

Sub-problem types can be added to problem types by clicking the Add Sub-Problem Types option. Click the Edit option to edit an existing sub-problem type. You can click the Inactivate option to deactivate the sub-problem type.